Join us for HOSPICE CUP XLII | Saturday, September 16, 2023
Raising Funds For And Awareness of Hospice Care
Hospice Cup, Inc is a 501(c)(3) organization dedicated to raising funds for and awareness of hospice care in our region.
Based out of Annapolis, MD, we host an annual sailing regatta each September to raise funds and awareness of participating local non-profit hospices. This year Hospice Cup celebrates 42 years of raising sails, funds, and awareness for hospice care. Participating hospices use funds raised through Hospice Cup to continue to offer quality end-of-life care to patients, their families, and friends.
When: September 16th, 2023 from 5:30 – 8:30pm
Where: Horn Point Marina, 105 Eastern Avenue, Annapolis, MD 21403

Live music by Orlando Phillips
Oysters, Cake & Cheers to 42 years!
Grief counseling has always been in the fabric of Hospice, and is instrumental in helping so many families cope with the loss of a loved one and adapting to their new normal. In 2023, your support of Hospice is needed more than ever. Our Hospice partners are helping our communities navigate through the COVID- 19 crisis. In addition, COVID-19 has made grief and loss support even more essential due to many in our community dying alone, and their loved ones are left behind to deal with the complex grief of not having the opportunity for traditional good-byes. The grief and loss care provided by the Bereavement Care teams at our participating hospices receive minimal reimbursement from insurance carriers. Often, the services are provided free-of-charge. As a result, donations from the community are critical to providing much-needed care.
For 2023, Hospice Cup has committed to raising funds to support those in our community who need the professional counseling services offered by our participating Hospices. Please join us in helping to provide this meaningful support to our neighbors and friends living with grief and loss.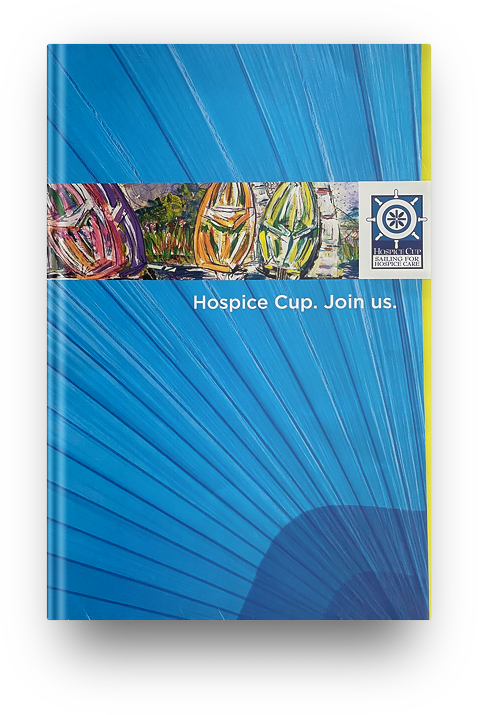 Becoming a sponsor for the Hospice Cup Regatta helps us realize our mission of raising funds for and awareness of hospice care in our region. Hospice Cup, Inc. strives to provide sponsor benefits and packages that best fit your organization's needs.
Sponsoring Hospice Cup puts your organization in front of thousands of people as our participating hospices cover Maryland, Virginia, and DC. Celebrating our 42nd year, Hospice Cup has become known for its dedicated sailors and incredible shore party. Become a sponsor today!
There are many ways to get involved! Are you a sailor? Race in the event! Want to make an impact, volunteer for the shore party! Can't make the event? Donate!
We need you in any capacity you can give, and we are so grateful for your support!
2023 Hospice Cup Artist Selection
Join us on 3/30 6-8 at the Circle Gallery for the final four selections for our 2023 artwork of the year. Wine and Cheese will be served.

Circle Gallery, 18 State Circle Annapolis, MD 21401
Triple Crown of Charity Sailing
Sponsored by Weems and Plath
Recognizing the top sailor and fundraiser for The CRAB Cup, The Leukemia Cup, and The Hospice Cup races.


Horn Point Marina
Music by Ryan Kozel